Ali stands over Liston
By Neil Leifer
It's no hyperbole to say that the photograph above is an iconic image of an iconic person in an iconic sporting moment. Neil Leifer photographed Muhammad Ali dozens of times during his heyday in the 60s and 70s as Ali won the heavyweight crown three times. Foremost among those images is this, of Ali berating Sonny Liston in the first round of their world title fight in 1965. Liston had gone down easily from the "phantom punch" – with many suspecting mobsters had paid him to lose early – and Ali was furious, gesticulating at Liston to get up and fight. The picture was created in an era when boxing rings were clean white canvases on which bloody duels were fought over 15 rounds, and colour film photography produced lustrous results. The picture was somehow overlooked for the front cover of Sports Illustrated, for whom Leifer worked, and only decades later pulled from the archives and given its due. JW
Phelps makes it seven
By Patrick B Kraemer
It required video slowed to one frame per 10,000th of a second – as well as a snafu involving the official timekeeper Omega – to decide that Michael Phelps (left) had beaten Serbian Milorad Cavic (right) in the final of 100m butterfly at the 2008 Beijing Olympics. Also capturing the race's dramatic last gasps, as Phelps windmills desperately to outtouch Cavic's glide to the wall, was Patrick Kraemer, a Swiss former swimmer who specialises in underwater photography for aquatic sports. The victory meant the American equalled Mark Spitz's 36-year-old record of seven golds in a single games – an eighth soon followed. "I saw it slowed down and it's almost too close to see," said a triumphant Phelps. LR
Beamon leaps into history
By Tony Duffy
The indelible image of Bob Beamon's 8.9m "leap of the century" at the 1968 Mexico City Olympics was taken by Tony Duffy, a British amateur photographer. The American athlete travelled so far into the sandpit that the judges' measuring device wasn't long enough; a tape measure had to be fetched. His record wouldn't be broken until Mike Powell leapt 8.95m in 1991.
"Only after I held the negatives up to the light back in the room did I discover it," Duffy said later of the image that helped propel his career: three years on, he quit his job as an accountant and co-founded the Allsport agency, which Getty Images bought in 1998 for £29m. LR
Mandela and Pienaar unite South Africa
By David Rogers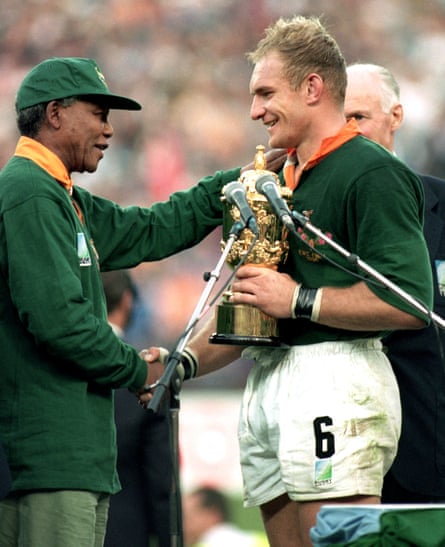 This image, taken at the 1995 Rugby World Cup final, shows Francois Pienaar, South Africa's white captain, being congratulated by its Black president, Nelson Mandela, in the team's kit, with its springbok symbol – once hated signs of Afrikaner supremacy. For a brief sporting moment, this new rainbow nation, and the world, saw a vision of hope and reconciliation. LR
Decker hits the deck
By David Burnett
In LA in 1984, the US 3000m favourite, Mary Decker, saw her Olympic dreams die when she tangled with Zola Budd, 18, bare-footed and South African but controversially allowed to compete for Great Britain. "It happened just in front of me," recalled David Burnett, whose photograph led Time magazine's coverage. "Never have I witnessed such a raw public-private moment." LR
Fosbury flops
Photographer unknown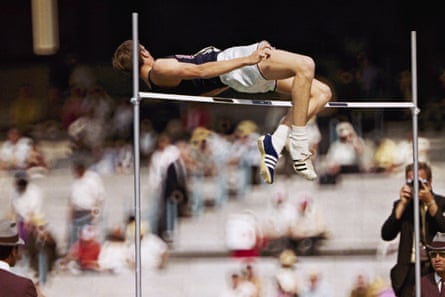 The Fosbury flop era took flight at the 1968 Mexico City Olympics. Dick Fosbury, 21, an eccentric civil engineering student from Portland in mismatched running shoes, won gold with his ingenious technique to leap over the high jump bar: a curved run-up, the back leg used as a lever and jumping arched-back first, then trailing and whipping his legs over. His competitors soon gave up their forward rolls, ambitious hurdling and leg scissor motions, and followed suit. Fosbury never competed at another Olympics but his flop has been present at every high jump event since. LR
Disaster at Le Mans
By Jimmy Prickett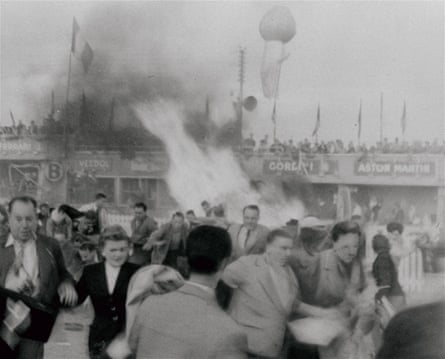 "There was a terrific explosion and two car wheels whistled over my head. I saw a little girl who had been trampled on by panic-stricken spectators lying in a pool of blood and a headless man beside me collapse like a rag doll," an injured spectator said of the 1955 disaster, the horrors of which were caught on camera by Jimmy Prickett, a US soldier, as crowds fled the scene. During the 24-hour race, the French driver Pierre Levegh's car hit another, causing his Mercedes to explode, sending debris flying into the stands. He was killed instantly, as were 83 spectators, with 180 injured, in the worst disaster in motor racing history. LR
Nadal triumphs in twilight
By Graham Chadwick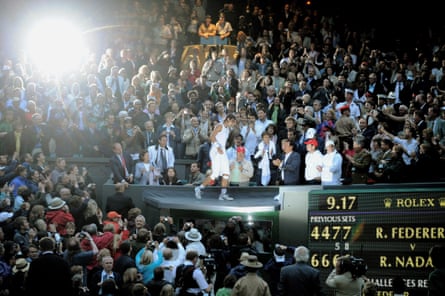 The rivalry between Roger Federer and Rafael Nadal reached its zenith at the 2008 Wimbledon final, a rain-delayed, five-set epic which John McEnroe declared "the greatest match I've ever seen". After the Spaniard finally came out on top to win his first grass court grand slam, Graham Chadwick, a Daily Mail photographer, captured his triumphant climb to celebrate with family in the stands. The practice, which began when Pat Cash made an unexpected scramble to the family box after his 1987 men's singles win, is now a tradition. LR
The Super Bowl helmet catch
By Elaine Thompson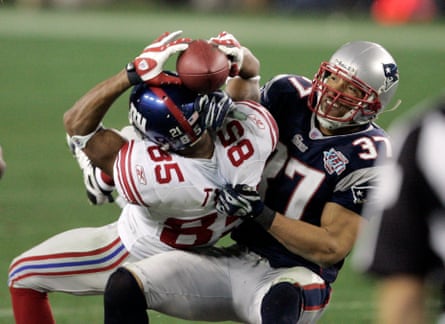 With 1min 15sec left on the clock and the New York Giants trailing the New England Patriots at Super Bowl XLII in 2008, the quarterback Eli Manning somehow evaded several tackles, skipped into space and fired a pass high and far downfield. David Tyree leaped into the air "like a basketball player" in the words of one commentator, catching the ball miraculously above him between one hand and his helmeted head, then securing it with his other hand, all as a Patriots defender tried to stop him as they both fell to the ground. From the ensuing plays the Giants scored a touchdown and secured their first Super Bowl since 1990. LR
By Tó Mané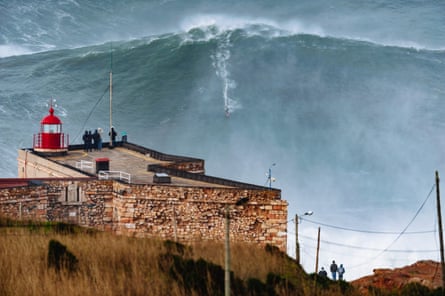 Nazaré, on Portugal's western central coast, is regularly referred to as "the ocean's Everest". The waves of Praia do Norte beach underscore several Guinness world records, including the one pictured here, ridden by Garrett "Gmac" McNamara, a big wave surfer. In 2011, the American caught a 78-footer and less than 18 months later broke his own record with a 100ft wave in the same waters. There is some disagreement as to whether the wave was actually 100ft, but the unofficial title of this shot, by the Portuguese surf specialist Tó Mané, stands. GH
The beginning of a great Ethiopian tradition
By John G Zimmerman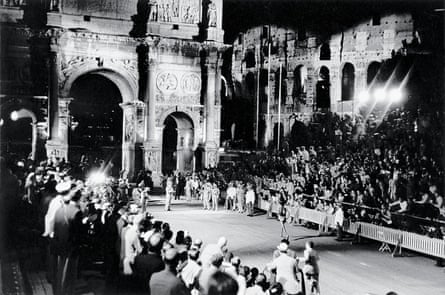 It had not been Abebe Bikila's intention to run in Rome's 1960 Olympics barefoot. The Ethiopian marathon runner hadn't even been selected in the original squad, joining only when another athlete was injured. Before the Games, he had been working as a palace guard for Emperor Haile Selassie and training barefoot in his free time. On arrival in Rome, the running shoes provided didn't fit and gave him blisters, so he made the decision to run as he always had done, without them. Not only did he win the race, which finished under the Arch of Constantine in darkness, he broke the world record with a time of 2:15:16. The moment was captured by the renowned Sports Illustrated photographer John G Zimmerman. When Bikila died 13 years later, at only 41, a national day of mourning was declared in his country. GH
Brandi Chastain lets rip
By Robert Beck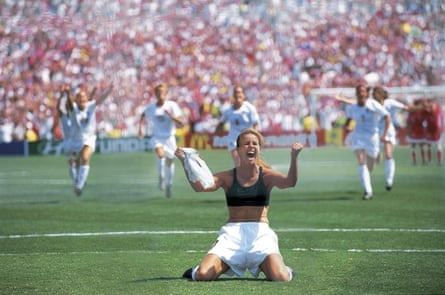 Brandi Chastain has since said she has "no idea" what made her tear off her shirt but her celebration after scoring the winning penalty in the 1999 World Cup final against China instantly became one of the most famous images of the rising, US-dominated women's game. It was a sight echoed by England's Chloe Kelly after her extra-time winner in the 2022 Euros final. Robert Beck, who at the time specialised in surfing photography, had originally been sent by Sports Illustrated to take photos of the crowd at the Rose Bowl in Pasadena, California, before making his way pitchside during extra time. GH
King Ali
By Neil Leifer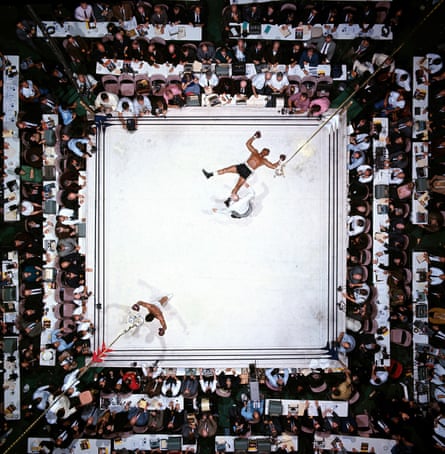 "Through the years, Muhammad Ali made a hero out of me," said Neil Leifer, when I spoke to him a decade ago about his feted career. His most cherished picture is this aerial photograph of Ali seconds after defeating Cleveland Williams in 1966. It was shot with a remote camera rigged high amid the ring lights. "For my money it is the best picture I ever took in my life," he told me, before revealing that it's the only picture of his own that adorns the walls of his home. "I have a large print of it in my living room. I like to hang it as a diamond shape with Cleveland Williams at the top." JW
Emily Davison's death at Epsom
Photographer unknown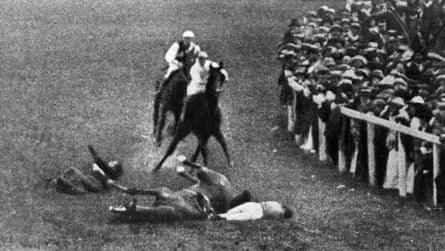 The story of the suffragette Emily Wilding Davison is a complex one, with more than one unhappy ending. The version most commonly known is that the 40-year-old intentionally threw herself into the path of the King's horse, Amner, at the Epsom Derby in 1913. But the suggestion of self-sacrifice was at odds with the return train ticket found in her wallet, and a Channel 4 investigation in 2013 found that Davison was not trying to pull down the horse, but to attach a scarf to its bridle. After her death, which was ruled accidental, Amner's jockey, Herbert Jones, laid a wreath in her honour; in 1951, he took his own life. GH
Eriksson and Harder kiss
By Simon Hastegård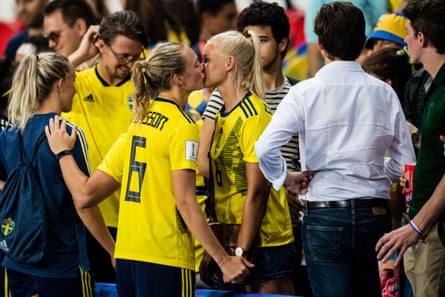 After Sweden defeated Canada at the 2019 Women's World Cup, Magdalena Eriksson shared a quick kiss with her girlfriend Pernille Harder, who plays for Denmark but was loyally wearing yellow. The moment was captured and shared around the world: two elite gay footballers comfortably together on the international stage, and helping pave the way for others. LR
The Korbut flip
By Gerry Cranham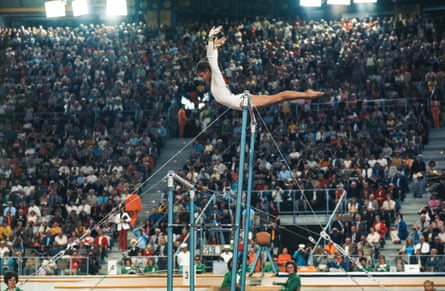 Olga Korbut was only 17 when she competed in the 1972 Olympics in Munich, for the Soviet Union. Her 30-second display on the uneven bars, captured here by the famed British sports photographer Gerry Cranham, included a skill later made illegal: backflipping off the higher bar, grasping it again, propelling herself in a loop around the lower bar and returning backward to the higher bar with a thrust of her hips. The crowd jeered in dismay when her daring innovation scored 9.8, placing her second. GH
Ultramarathon breastfeeding
By Alexis Berg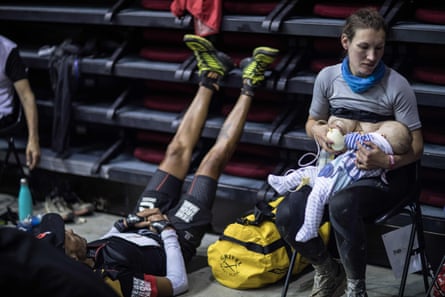 Sophie Power was 16 hours into the Ultra-Trail Du Mont-Blanc in 2018 when she was photographed pausing to breastfeed her three-month-old baby. Power had lost her place in the same race four years earlier as she was pregnant with her first child and not permitted to defer. A few months postpartum, her plan for the race revolved around being gentle on her body – she used poles to run down hills to reduce the impact on her pelvis – and keeping her milk supply up by stopping for longer than usual to eat at checkpoints and hand-expressing through the night. Power has since campaigned to change deferral policies in long-distance races, so athletes are able to defer due to pregnancy as well as injury. GH
Amarilla Veres and Jing Rong
By Lintao Zhang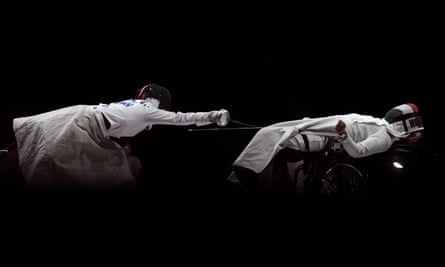 Wheelchair fencing has been a Paralympic sport since the first Games in 1960 in Rome. Six decades later, on day two of the Tokyo 2020 Games (held in 2021), Lintao Zhang captured this stunning shot of Amarilla Veres, competing for Hungary, and Jing Rong, for China, in the women's épée individual event. With their wheelchairs fixed to the ground, fencers compete using only their upper bodies but the categories remain the same as in classical fencing: foil, sabre and, as in this instance, épée. Veres won gold, with Rong taking silver. GH
Muybridge's 'flying' horses
By Eadweard Muybridge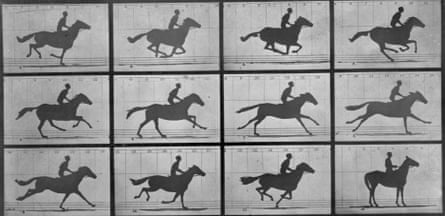 Do horses briefly "fly" when they're in motion? That was the question the British landscape photographer Eadweard Muybridge tried to answer almost 150 years ago. While some people fancied a galloping horse must always have one hoof on the ground, others believed its limbs must extend simultaneously between strides like a wooden rocking horse. The American rail baron and racehorse owner Leland Stanford hired Muybridge to prove this "unsupported transit". But photographic technology was still in its infancy and it was almost impossible to depict moving subjects, let alone galloping horses. There were two major problems: photographic emulsions in the 1870s required several seconds of exposure to light in order to render images, and cameras were operated manually by photographers who'd often cap and uncap their lenses using a hat.
Muybridge knew his only hope was to develop new technologies, so he and a team of engineers at Stanford's yard in Palo Alto, California created cameras using faster emulsions, trip-wire triggers and electronic shutters pulled by rubber bands. They called their pioneering invention the "automatic electro-photograph" and the results were astounding. In June 1878, using a sequence of cameras that could take photographs quicker than 1/500th of a second, they came up with incontrovertible evidence that horses, including Sallie Gardner (pictured), are momentarily airborne. What's more, they didn't extend their legs as expected, but gathered them beneath their bodies and thrust each one forward in turn.
The world was agog. Muybridge – whose pioneering work laid the foundations for all sports photography – would go on to make elaborate studies of humans and other animals in motion, while his later invention, the zoopraxiscope – a device that enabled him to reanimate his photographs – was a precursor to modern cinema. JW
John Barnes backheels a banana
By Bob Thomas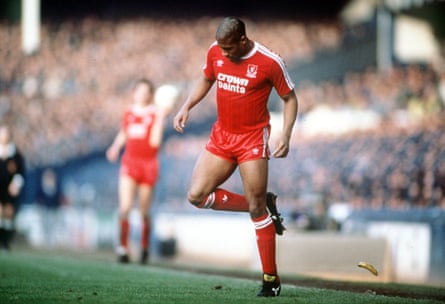 "When an uneducated, stupid racist abuses me, how can I be insulted by someone like that, who I feel superior to?" wrote John Barnes in his recent book, The Uncomfortable Truth About Racism, as he recounted how his privileged early life in Jamaica gave him a sense of self-worth that would shield him during the darkest moments of his footballing career in England. Curiously, his book never directly discusses the shameful moment in which he was pelted with a banana while playing for Liverpool, though this photograph is printed on the back page, such is its importance.
It was shot during a Merseyside derby in 1988, in a decade when such vile abuse of Black sports people was still depressingly common. Barnes says racist jokes were also routine in training, while a fellow Black player, Cyrille Regis, received a bullet in the post when he was called up for England. The power of this photograph comes from Barnes's defiant reaction to the abuse: he disposed of the offensive object with a gloriously insouciant backheel. "[Racism] never affected me or had a negative impact on my life or career," he said.
You'd think an image as striking as this might effect lasting change within football. Evidently not. In the past five years alone, a banana was flung at Arsenal's Pierre-Emerick Aubameyang during a north London derby; England's heroic footballers, Marcus Rashford, Jadon Sancho and Bukayo Saka, were racially vilified following their penalty misses at Euro 2020; a vocal chunk of England fans booed their own players for taking the knee amid global Black Lives Matter protests. And that's not to mention what Barnes calls the "invisible bananas" – the less overt forms of discrimination –that persist beyond the boundaries of football. JW
Formula One fireball
By Arthur Thill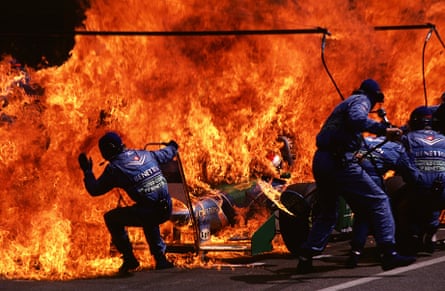 At the German Grand Prix in Hockenheim in July 1994, Jos Verstappen's Benetton-Ford pulled in for a routine stop at the pits, but during refuelling the car burst into flames. Thankfully the fire was extinguished in seconds and the driver and team walked away relatively unscathed, with minor burns. The moment was briefly seen on live television, but Arthur Thill's photograph preserved the apocalyptic vision of car, driver and engineers engulfed by fire, a reminder of the ever-present risks of motor racing. That year turned out to be an annus horribilis for Formula One: May's San Marino Grand Prix weekend was blighted by several major crashes, with the Brazilian superstar Ayrton Senna and Austrian driver Roland Ratzenberger both dying in separate incidents on the track. LR
Javier Torres takes off
By Bob Martin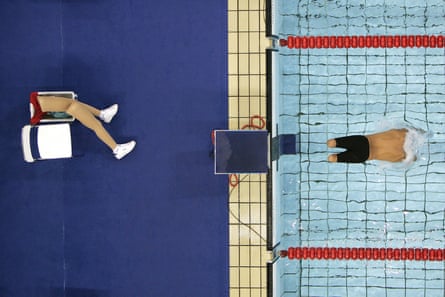 "I almost missed the best picture I've ever taken," says Bob Martin of this shot from the 2004 Paralympic Games. The British photographer was up in the "catwalk" at the swimming venue in Athens, hoping to create artistic images of water diffracting around the competitors below, when Javier "Xavi" Torres, a Spanish athlete with tetraphocomelia – a medical condition in which the limbs are not fully developed – entered the arena for the S5 category 200m freestyle heats.
"The second Xavi came in and laid his prosthetics down, I thought: 'That's going to be a fantastic picture,'" Martin says. "But I was clipped in via a harness, so I had to desperately chase my way round from where I was to the starting blocks. I got there a couple of seconds too late. But, as luck would have it, it was a false start, so they went again."
As Torres dived into the pool for the second time, Martin captured this extraordinary frame of the five-time Paralympic gold medallist – an image that shatters stereotypes of disability, leaving viewers in awe of Torres's ability and spirit. "It was my first Paralympic Games and I was amazed by what I saw, it totally opened my eyes to how capable athletes with disabilities can be," Martin says. His work was reproduced over three double-page spreads in Sports Illustrated and this picture of Torres won numerous awards, including a World Press Photo.
Torres later thanked Martin for making him famous. "I like the photo because it expresses very well the path to my freedom in the water," Torres says. "I left my legs next to the chair and jumped into the water, which is the place where I can move and feel without limits." JW
Diego Maradona v Belgium
By Steve Powell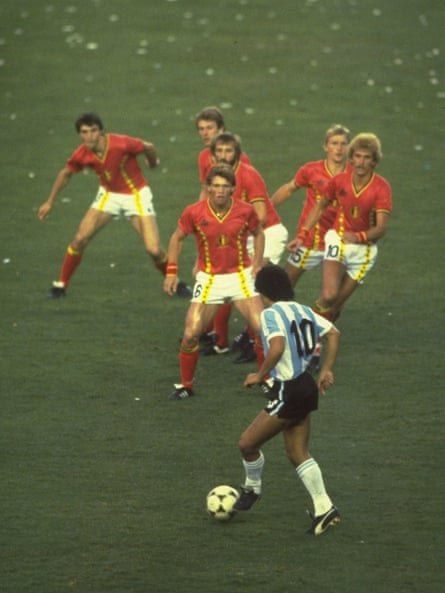 Over the years, this image of Diego Maradona at the 1982 World Cup has been widely mythologised. It shows the late, great Argentina forward approaching a gaggle of Belgium defenders who, at first glance, appear to have been deployed en masse to thwart his individual brilliance. However, in reality Maradona's opponents were merely fanning out from a wall following a free kick, after which the fabled number 10 tamely lost possession, as Argentina were defeated 1-0.
It would be four more years before Maradona would peak, terrorising England en route to winning the World Cup in Mexico. But don't let the truth spoil the image for you. The impression it conjures – the memory of his untameable talent – counts for so much more. "Ultimately it's not about that particular game – it transcends that," said the photographer Steve Powell. "It's about communication. It communicates the power of Maradona and the fear he instilled." JW
The grin of Usain Bolt
By Cameron Spencer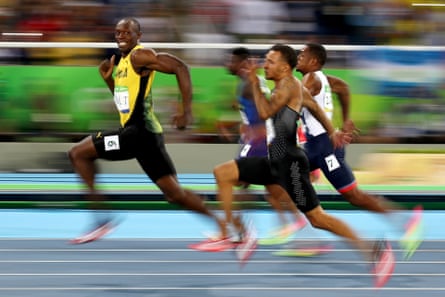 This viral photograph from 2016 shows Usain Bolt striding away from his rivals with astonishing ease during the men's Olympic 100m semi-finals. The photographer, Cameron Spencer, made it by panning his camera sideways while using a slow shutter speed, to create the motion blur effect. Everyone knew Bolt would win the race at a canter – the Jamaican was practically untouchable throughout his career and had set a world record time of 9.58 seconds in 2009 – but Spencer had the good fortune to capture this unexpected moment of impudence as Bolt appeared to smirk at the ease of his victory as he whizzed past. JW
Evander Holyfield's bloodied ear
By Jed Jacobsohn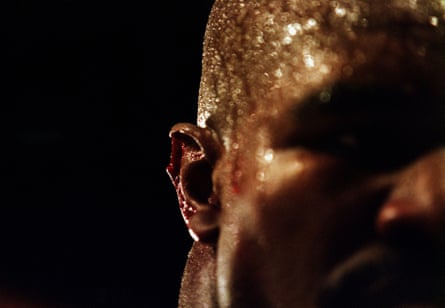 He was labelled the "baddest man on the planet", but it was still a shock when Mike Tyson chomped down on Evander Holyfield's right ear in the third round of their second heavyweight boxing clash in 1997, tearing off a chunk before spitting it to the canvas. "I bit him because I wanted to kill him," Tyson said years later, insisting Holyfield had been headbutting him in the clinches. Tyson was stripped of his boxing licence by the Nevada Athletic Commission and fined $3m from his purse. This gory, long-lens picture won first prize in the World Press Photo Sports Singles category the following year. JW
The age of the photo finish
Photographer unknown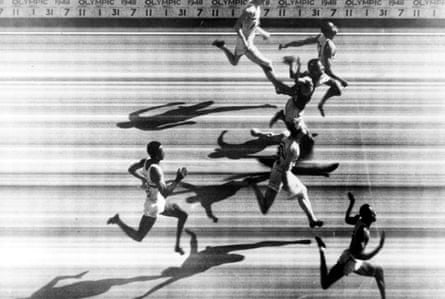 Look closely at the limbs of these runners and you'll notice they're distorted: a telltale sign of the use of a photo-finish technology that blossomed in the mid-20th century. Whereas conventional photography captures a single image, in strip photography a spool of film is wound behind a narrow slit, allowing the camera to record the flow of activity at a precise location. This early example from the 100m final in the 1948 London Olympics proved Harrison Dillard had beaten Barney Ewell – who had celebrated in error – by 0.1 seconds. JW
The buzzer beater
By Mark Blinch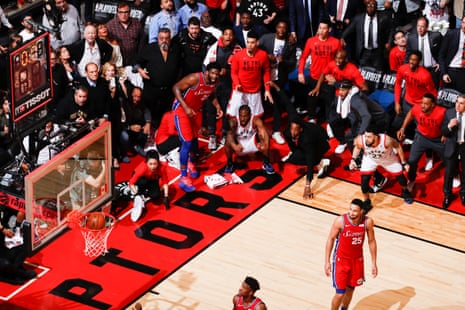 Like a Flemish masterpiece, this image has so much going on, it's hard to know where to start looking. From the substitutes reeling in disbelief, to Kawhi Leonard (in the No 2 white jersey) falling backwards after launching a last-gasp shot, to the shot-clock at zero, to the ball dropping through the hoop. It was captured as the Toronto Raptors downed the Philadelphia 76ers in game seven of the 2019 Eastern Conference semi-finals, before going on to become NBA champions for the first time, and it won a World Press Photo award the following year. JW
Solskjær wins it
By Michael Steele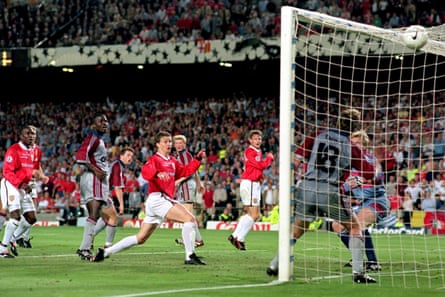 "Beckham, into Sheringham, and Solskjær has won it!" yelped the commentator Clive Tyldesley as Ole Gunnar Solskjær prodded home Manchester United's second goal in injury time during the 1999 Champions League final. Bayern Munich had been leading 1-0 until the remarkable turnaround that earned Sir Alex Ferguson's side their first European Cup since 1968 and sealed a historic treble that included the league title and FA Cup. Michael Steele's perfectly timed photograph captures a liminal moment: the ball has just crossed the goalline and pandemonium is about to break loose. JW
Horror at Heysel
By Eamonn McCabe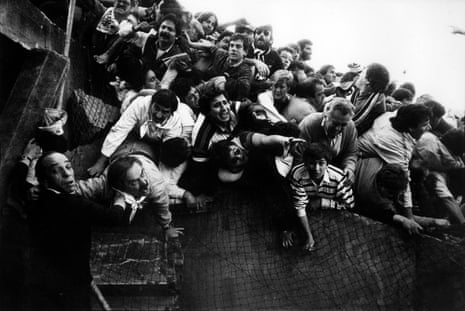 "I walked into that stadium a sports photographer and I left a news photographer," said the late Eamonn McCabe, recalling his harrowing images of the Heysel stadium disaster in 1985. McCabe was in Belgium to shoot the European Cup final between Liverpool and Juventus, but instead bore witness to tragedy as 39 people were killed when a wall collapsed following crowd trouble before the match. This image of people reaching out in despair was printed on the front page of the Observer and McCabe later won news photographer of the year for his work – "An award I wish I'd never won," he said. JW
The Bodyline tour
By Paul Popper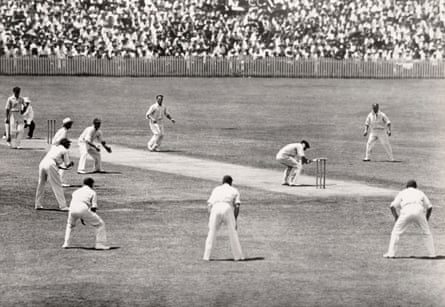 Imagine facing a fast ball that's been targeted at you, not the wicket, and you don't have a helmet for protection. As the old idiom goes: "It's just not cricket." During the infamous 1932-33 Test series, Australia were in the line of fire as the England fast bowler Harold Larwood employed "bodyline" tactics to disrupt his opponents. One delivery struck Bill Woodfull near the heart, causing him to stagger; another hit Bert Oldfield on the head, leaving him concussed. Australia raged about it for years, but Larwood was unrepentant. You can almost feel the ball whistling past Woodfull's ears in this photograph. JW
Brett and Freddie
By Tom Jenkins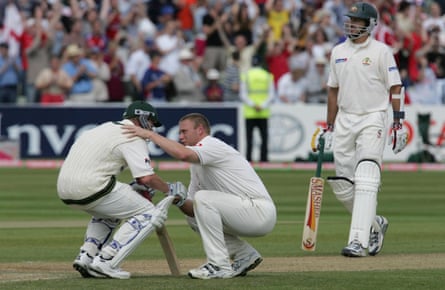 This poignant embrace between Andrew Flintoff and Brett Lee came at the end of a titanic Test match in 2005, when Australia fell three runs short of victory. As England erupted in celebration, Lee sank to his haunches and Flintoff crouched to offer consolation. JW
Gazza and Vinnie
By Monte Fresco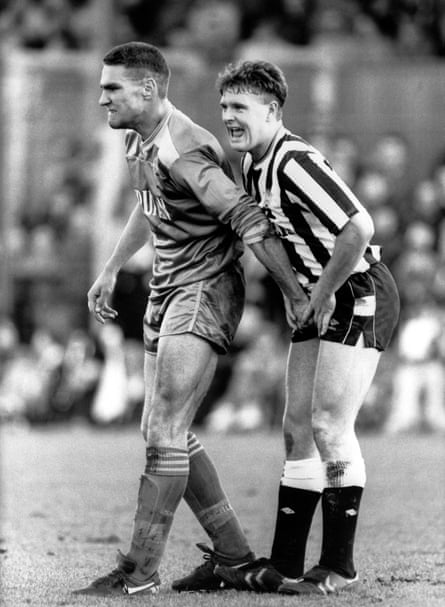 Utterly juvenile and much loved, this classic photograph shows Vinnie Jones, the hardman of English football, grabbing Paul Gascoigne by the privates, while pulling a menacing facial expression that wouldn't look out of place in a budget gangster movie. Gascoigne, an eternal joker who took it all in good humour, later said of the incident: "He squeezed them so hard I thought I'd lost my family allowance!" The picture was shot by the Mirror photographer Monte Fresco at an FA Cup tie in 1988, seven years prior to Fresco winning an MBE for his services to photography. JW
A rescue in the pool
By Oli Scarff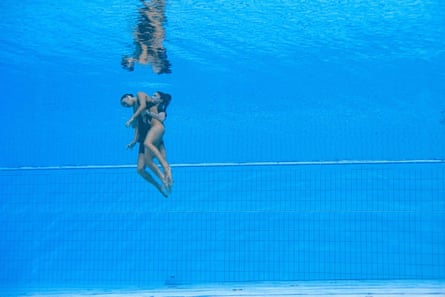 Something clearly wasn't right. Anita Álvarez was plunging to the foot of the pool during her solo artistic swimming routine at the 2022 World Aquatics Championships in Budapest, her body limp. The American was unconscious and might have died had it not been for the quick thinking of her Spanish coach, Andrea Fuentes, who dived in to save her. The AFP photographer Oli Scarff captured the entire sequence using a robotic camera on the base of the pool. Álvarez recovered fully and it later emerged this wasn't the first time she had passed out mid-competition. JW
Cathy Freeman brings it home
By Adam Pretty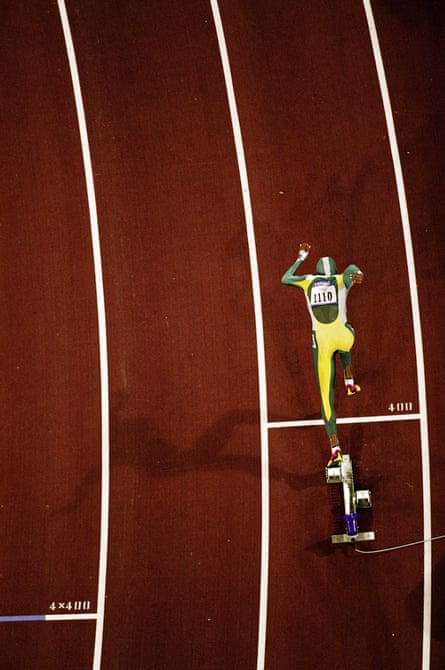 Willed on by an expectant home nation, Cathy Freeman took just 49.11 seconds to claim the Olympic gold in the 400m final in Sydney in 2000. Who knows how many thousandths of a second her "Swift Suit" – designed by Nike's Edward Harber and comprising a patchwork of different materials aimed at reducing aerodynamic drag – shaved off her time that day? During her lap of honour, Freeman, who was the face of the home team, waved both the Australian and Indigenous Australian flags – a landmark moment. JW
Nicky Winmar shows his pride
By Wayne Ludbey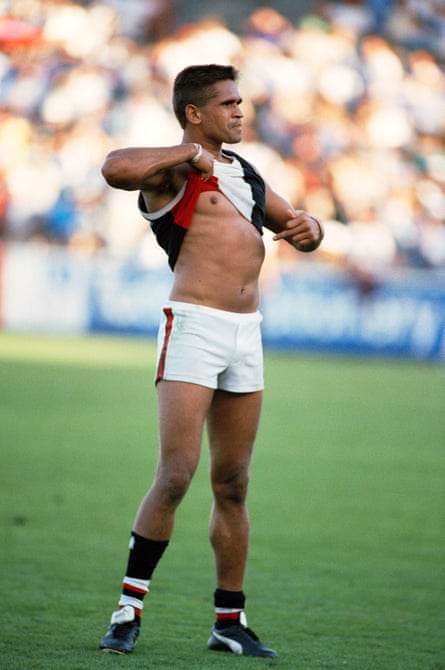 After the Aussie rules player Nicky Winmar had been subjected to sickening racist taunts throughout St Kilda's victory over Collingwood at Victoria Park in April 1993, he lifted his guernsey, pointed to his skin and shouted: "I'm Black and I'm proud to be Black." The incident came just months after prime minister Paul Keating's Redfern address, in which the dispossession of Indigenous people was officially accepted. The Cadet photographer Wayne Ludbey knew he'd taken a symbolic image; his editors at the Sunday Age agreed and put it on the front page. JW
A cold day at the rugby
By Ian Bradshaw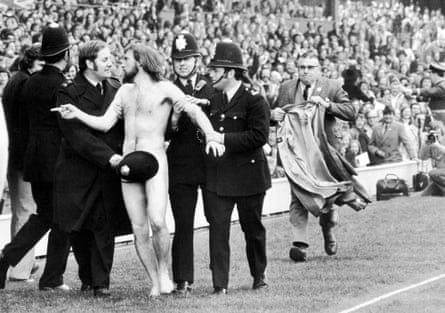 "It was a cold day and he didn't have anything to be proud of," joked the former constable, Bruce Perry, when reminiscing about the time he used his police helmet to protect the modesty a male streaker at Twickenham. The year was 1974 and Michael O'Brien, the hirsute Australian in question, had made his nude dash across the hallowed rugby pitch in front of 53,000 stunned fans, including royalty, simply to win a £10 bet with a mate. Back then, streaking at sporting events was unheard of, and this amusing image duly won a World Press Photo award. O'Brien's drunken antics got him fired from his job and spawned a legacy of copycats. JW
A new way of seeing sport
By George Silk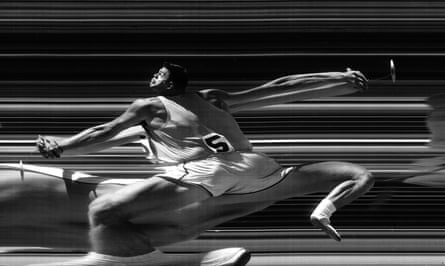 This mind-bending image of a hammer thrower at the US Olympic tryouts was made by the veteran war photographer George Silk for Life magazine in 1960. Silk was one of the first to realise the creative potential of slit-scan photography – a technology more typically employed in photo-finish cameras for horse racing and sprinting, and which remains surprisingly rare in sports photography to this day. JW
Pistorius before the fall
By David J Phillip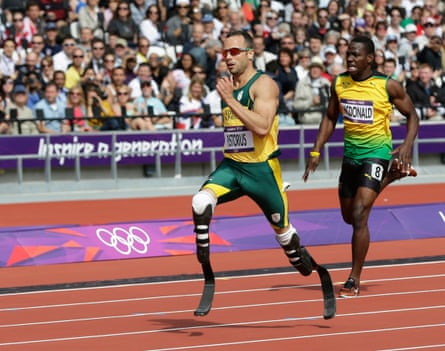 Oscar Pistorius was 11 months old when he had both his legs amputated below the knee, having been born without fibulae. The South African, nicknamed Blade Runner, enjoyed a glittering career as a Paralympic sprinter and fought countless legal battles before being granted permission to compete against able-bodied athletes at the 2012 Olympics in London. Pistorius made his historic bow in the 400m heats, finishing a creditable second here. Yet the extraordinary visuals from that day have been for ever tarnished. In 2014, Pistorius was found guilty of the culpable homicide of his partner, Reeva Steenkamp; he was later charged with murder after an appeal court overturned the original verdict. JW
Greg Louganis bangs his head
By Brian Smith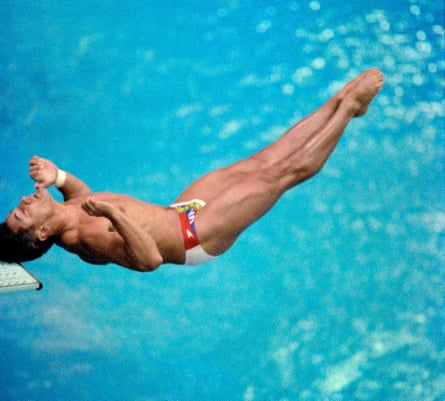 "On the takeoff I stood up a little straight, so I knew I was going to be a little close to the board," Greg Louganis recalls of his infamous dive in the heats of the 3m springboard at the 1988 Seoul Olympics. "You worry about hitting your hands on the board. So when I came out of the dive I brought my arms in close to my body. And I thought I was well past the diving board, then all of a sudden I heard this big hollow thud."
He realised he had hit his head, as did the horrified fans in the arena and TV viewers worldwide – an image preserved in this photo. "I was embarrassed," Louganis says of his first thoughts as he crashed into the pool. Then came a bigger issue: he was HIV positive but had not yet revealed his status. His head was bleeding and he was, he remembers, "paralysed by fear", though the chances of transmission were infinitesimal.
He was also concussed and Ron O'Brien, his coach, said he didn't need to keep going, but Louganis was adamant. "We went for a little walk. There was 20 minutes between rounds and he started joking with me: 'Hockey players have 30 stitches and they get back on the ice. You've got five stitches, it's nothing!' We were just laughing about the whole thing," he says, which helped him. He won gold easily, and did so again in the 10m platform. They would be his final competitive dives.
Though it was widely known that Louganis was gay, he "didn't feel welcomed by USA Diving" and didn't come out publicly until the 1994 Gay Games. He went on to become a vocal advocate for gay rights and HIV awareness.
Despite Louganis's national profile, four Olympic golds and countless other diving titles, thwacking his head on the board remains at the forefront of the mind. "When that happened, I told my coach: 'That's all anybody is going to remember', and it's kind of true. But at least I came back. And I won." LR
Claressa Shields
By Terrell Groggins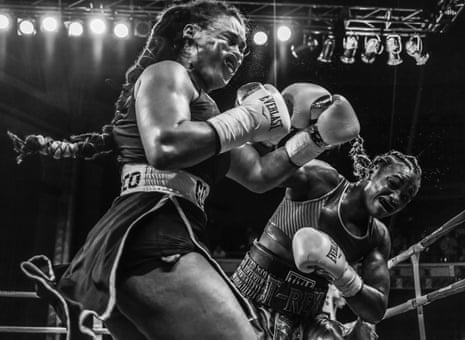 In 2012, Claressa Shields (on right, above) became the first American woman to win an Olympic gold in boxing, and when she won again in 2016, she became the first American fighter – male or female – to take gold in successive Olympics. Six matches after turning professional, she fought the Costa Rican Hanna Gabriels, 12 years her senior, at the Masonic Temple in Detroit in 2018.
The photojournalist Terrell Groggins, who has been capturing the career of the world middleweight champion for years, says Shields had admired Gabriels since her youth, and in the first round was knocked down by her. It didn't happen again. Shields won, breaking the record for becoming a two-weight world champion in the fewest professional fights.
"I took this shot as she got back up and became who she is," Groggins says. "Here is a story of two Black women from different parts of the world, who have faced hardship and abuse, fighting through adversity."
The day before the match, Groggins says he was the victim of what he felt was blatant racial profiling. "I was doing an interview and was interrupted by a staff photographer who'd had her equipment stolen; she ordered security to check my bag. My story as a Black photojournalist runs parallel to Claressa's: she is fighting in the field of women's boxing, me in photojournalism."
As a result of the unfounded accusation, Terrell positioned himself at the other side of the ring to the staffer, on the side of the judges. It was here that he landed this award-winning image. "I love this shot," he says, "but it doesn't do Hanna any justice. I have photos in the series of Claressa getting hit just as hard." He adds: "I hope I'm able to tell the world more one day, not just of this match, but of each of our stories; not just our struggles but our triumphs." GH
Tayla Harris's kick
By Michael Willson
Dismayed by the misogynistic comments online after this striking image was taken of her kicking for goal in a 2019 match, the Australian rules star Tayla Harris responded by tweeting it with the words: "Here's a pic of me at work … think about this before your derogatory comments, animals." The image had gone viral after being posted, deleted, then reposted by Channel 7 amid a storm of controversy, and became symbolic of a backlash to sexism in Australian sport.
Michael Willson is chief photographer for the Australian Football League Women's (AFLW), as well as the men's league. He says that from the moment he took the photograph, he could tell he had captured something special. "I knew it was an impactful image as soon as I saw it on the back of the camera," he explains, pointing to "the athleticism, the extension of the leg, the elevation off the ground".
What he couldn't have predicted was how the image would take on a life of its own. "The sexist, derogatory words from anonymous online trolls were disappointing to say the least and unexpected," he says now. "But then the tide turned again and the image started this whole movement of saying: 'We're not going to take this, we're going to celebrate this even harder.' It drew a line in the sand, went viral and stands for even more now," Willson says.
So significant was its impact that the image of Harris mid-kick was later immortalised in a bronze statue, commissioned by the AFLW's major sponsor. And what of Harris and her stance on it, looking back? Willson says: "As hard as it was on her at the time to have to read all those disgusting comments, I don't know if she would take it back. The voice that she's given it far outweighs all the negativity." GH
A bad day at Mount Hermon
By Robert S Van Fleet
When the science block of Mount Hermon, a Massachusetts prep school, went up in flames on 20 November 1965, an American football game was under way on a nearby field. Play between Mount Hermon and their fierce rivals Deerfield Academy was initially stopped to take stock of the situation: at half-time it was decided that the game should continue, despite the heat from the fire.
Robert S Van Fleet, a journalist with a local news agency, was in attendance to watch his 17-year-old son James play for the home side. He happened to have a camera and photographed the strange sight: the fire blazing in the background as water sprays to quell it, while players, officials, coaches and spectators all seem largely oblivious. His photograph went far and wide, published nationally and internationally, winning awards. It continues to get attention today, oscillating between a "fancy that" oddity, cries of fake and a neat metaphor for the darker aspects of sport and human nature.
It was claimed the reason for continuing the game was that emptying the stand would have put more people in harm's way. It recalls the 1955 Le Mans disaster (see above), where similar thinking allowed the race to continue despite the tragedy. More recently, the image brings an echo of the much-discussed 2017 photograph of people playing golf in Oregon against the backdrop of a wildfire. Perhaps more obliquely it calls to mind November's World Cup in Qatar, when underlying debates about migrant worker and LGBTQ+ rights, the climate crisis, various wars and a global economic downturn all faded when the fun and games began.
Sport, for better or for worse, will often simply just play on. The Mount Hermon science building burned down that day, and the school's young team lost 20-14 to Deerfield, despite a spirited second half fightback. LR
Megan Rapinoe stands up
By Elsa Garrison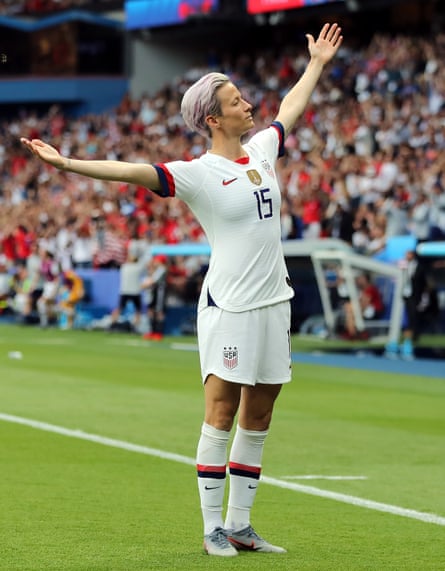 A few days before this photograph of Megan Rapinoe was taken, Donald Trump had admonished her via Twitter after a video was released of her saying she wouldn't be "going to the fucking White House" if the US women's team won the 2019 World Cup. Trump told her not to "disrespect our country". Rapinoe responded by scoring the first goal of the quarter-final match with France, and celebrating with this pose. Elsa Garrison – a trailblazer herself, having become the first female staff photographer at Getty Images back in 1998 – captured it. "The stakes were so high," she says. "We could all feel the gravity of it. It was electrifying." GH
Flo-Jo's golden summer
By Tony Duffy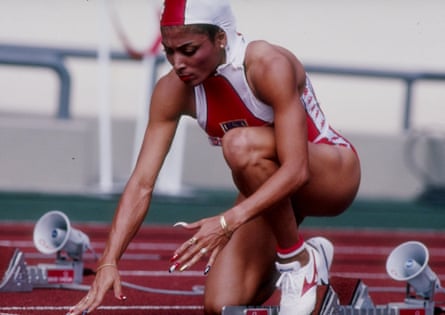 Since the 1988 Seoul Olympics, where Tony Duffy took this shot of Florence Griffith-Joyner, her 100m and 200m world records haven't been broken. But the US athlete was not known just for her speed: she and her compatriot Gail Devers began a tradition of Black female athletes having extravagant manicures and redefining what a female athlete could look like. Flo-Jo's legend was later tarnished by doping allegations and it was suggested side effects from using the drugs led to her death: she suffocated in her sleep after an epileptic seizure, aged 38. GH
Bannister breaks the four-minute mile
By Norman Potter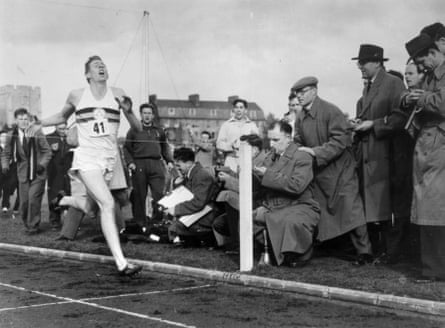 The one-mile race became a track event in England back in 1865, and when records began a man named Richard Webster set the fastest time: 4min 36.5sec. Over the decades, athletes chipped away at his record, but experts declared that it was impossible for the human body to ever run a sub-four-minute mile.
In 1954, Roger Bannister, an Oxford graduate, proved them wrong. Norman Potter was there as an apprentice photographer, for Central Press. High winds on the day had led most other press photographers to leave, presuming that the race would be cancelled. Potter's glass plate camera gave him just one chance to get his shot. As Bannister made the world record at 3:59.4, Potter pressed the button and captured a unique moment of sporting greatness. GH
Simone Biles's young glory
By Maddie Meyer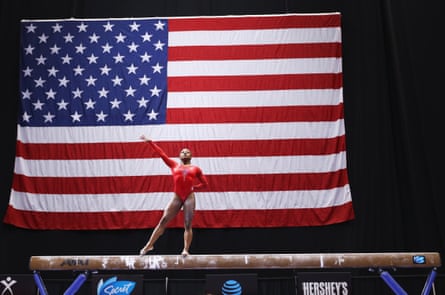 Maddie Meyer, a Getty staff photographer, captured Simone Biles in front of Old Glory at the 2016 US Classic; later that year the then 19-year-old became the first female American gymnast to win four Olympic golds (and a bronze). After the games in Rio, US gymnastics was hit by the Larry Nassar scandal, with Biles testifying that she had been abused by the former national team doctor. Biles returned for the Olympics in Tokyo. Despite the "twisties" – loss of spatial awareness – at the 2021 event, she won bronze on the beam and became the US's joint top medal-winning female Olympic gymnast.
Jesse Owens infuriates Hitler
Photographer unknown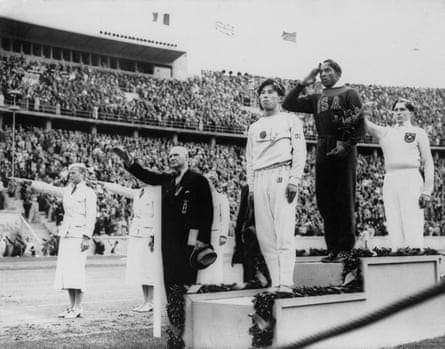 The 1936 Olympics, hosted by Germany in Berlin, were attended by 49 teams from around the world. The US team was the second largest, with 18 of its 359 competitors African Americans. Alabama's Jesse Owens became an Olympic immortal by winning four gold medals and infuriating Hitler at an Olympics designed to highlight the Nazi party's ideals. Here, Owens is surrounded by Nazi salutes while receiving his long jump gold. To his rear is Germany's Luz Long, who took silver. The pair bonded afterwards, posing for pictures together and exchanging warm words. "Hitler must have gone crazy watching us embrace," Owens later said. GH
Serena triumphs
By Corinne Dubreuil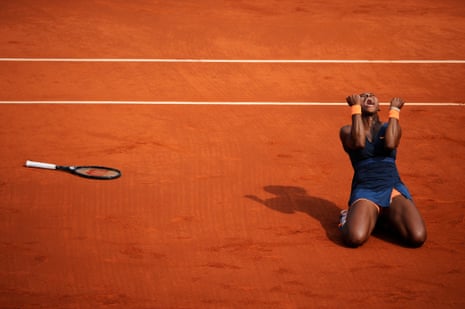 It's a familiar sight: Serena Williams in ecstasy after winning a grand slam – here the 2013 French Open, after beating Maria Sharapova. The shot is by Corinne Dubreuil, who got her start at the 1987 French Open when the defending champion, Chris Evert, encouraged the young would-be photographer by giving her tickets to tournaments around Europe. She's been on the tennis tour ever since. LR
The birth of the Paralympics
By Raymond Kleboe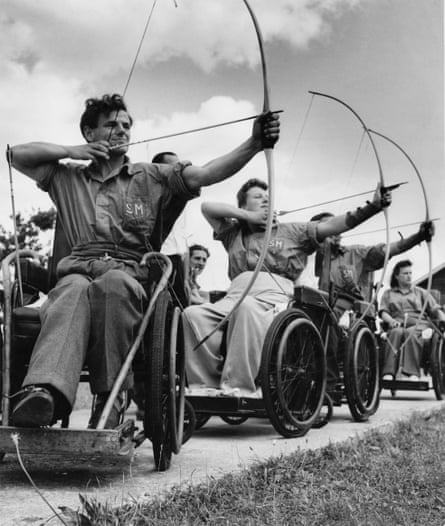 What we now know as the Paralympic Games began life as the Stoke Mandeville Games in 1948, named after the hospital and village in which it was first held, near Aylesbury in Buckinghamshire. The games were the invention of Ludwig Guttmann, a Jewish neurosurgeon who had fled Nazi Germany and whose work in England revolutionised the treatment of spinal injuries. The games saw 16 injured servicemen and women compete in wheelchair archery, a class in which, held the following year at the hospital, is captured here. GH
The miracle on ice
By Heinz Kluetmeier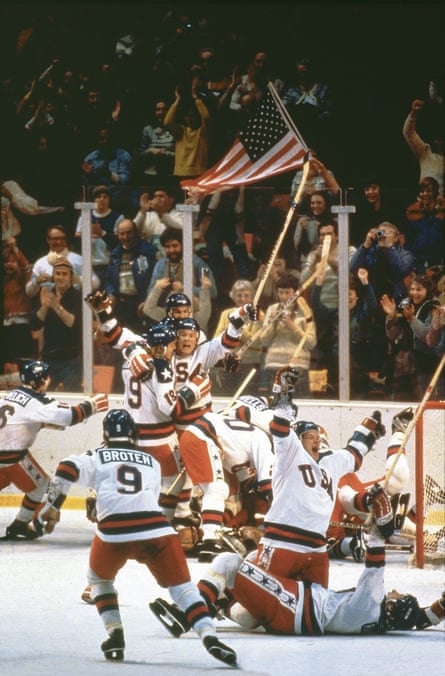 "Do you believe in miracles? Yes!" bellows the ABC commentator Al Michaels as the clock runs out in the game between the US and USSR at the 1980 Winter Olympics in Lake Placid. The de facto professional Russian ice hockey team were four-time defending champions, but now they were felled, 4-3, by a young team of American amateurs. Cue wild celebrations at the rink in upstate New York, pictured by the celebrated German-born American photographer Heinz Kluetmeier, who worked at Olympic Games across four decades. Days later, the team had to beat Finland to secure gold. Miracle upheld. LR