At first glance, Congolese photographer Kiripi Katembo's images look like playful sci-fi montages: shaky Kinshasa streetscapes in which giant rocks seem to be falling out of the sky, like a lo-fi apocalypse. On closer inspection there are no special effects: the images are actually reflections in puddles, turned upside down, each capturing a fleeting moment of street life in a shimmering, suitably surreal fashion that's arguably closer to the sensory experience of being there. It's a testament to ingenuity: Katembo, who tragically died of malaria aged 36 in 2015, had little access to professional photography equipment, so he found his own way of using the camera. There was also an element of necessity. Most Congolese people do not want to have their picture taken, he once explained, so he had to seek less obtrusive ways of documenting his community.
Many Africans would have good reason to be suspicious of a camera pointed at them. The histories of photography and colonialism go hand in hand, especially in Africa. As Zimbabwean novelist Yvonne Vera once wrote: "In Africa … the camera arrives as part of the colonial paraphernalia, together with the gun and the bible." Even as European powers were carving up the continent in the 19th century, explorers were returning the first photographic images of Africa, which inevitably reflected the mindset of the people creating them: "untamed" landscapes filtered through fantasies of "the dark continent"; quasi-scientific portraits of "subjects", or even "specimens".
A century on the gaze has reversed, and what a relief it is. Judging by A World in Common, the Tate Modern's energetic, expansive new exhibition, Africa has taken photography and run with it. As well as a survey of modern Africa in all its variety and complexity, the show tracks how artists like Katembo have used photography in their own ways, subverting conventions, finding fresh modes of expression, even forging new, postcolonial identities for the continent. "It's an attempt to reimagine the possibilities of photography," says curator Osei Bonsu, "not just as a tool that documents reality but as something with the potential to liberate storytellers and give artists the agency to think the world anew."
One of the easiest places to track African photography's evolution is in the tradition of studio portraiture. At the turn of the 20th century, as in Europe, entrepreneurial white photographers set up studios for well-to-do locals. Santu Mofokeng's archive of portraits of Black South Africans from the time shows them dressed in formal western attire – waistcoats, bonnets, bow ties – posing stiffly in mock-Victorian interiors. These Africans have commissioned their own photography, at least, but they could also be textbook illustrations of "internal colonisation".
By the 1950s, the utopian, post-independence spirit of Pan-Africanism was sweeping the continent, and the medium was in the hands of Africans themselves. In West Africa, photographers like Malick Sidibé, Seydou Keita, and James Barnor were capturing this optimistic mood through both photojournalism and studio portraiture. Portraits from Barnor's Ever Young studio in Accra, Ghana, capture young professionals such as nurses or teachers, or family occasions like weddings or births. The sitters appear relaxed and smiling, looking forward to bright futures.
Contemporary photographers have built on this tradition. Ethiopian Atong Atem and Nigerian Ruth Ginika Ossai's studio portraits are bursting with colour and pattern and flamboyance. Ossai often selects the loudest possible fabrics, or backgrounds inspired by Igbo gospel videos and Nollywood films. "I wish my images to fill my subjects with power and agency, so they can be free and allow their true selves to shine through," she says.
By the time we get to Hassan Hajjaj's portraits of the "Kesh Angels" – female bikers in Marrakesh, Morocco – western notions of both portraiture and Arab women have been turned on their heads. Straddling street bikes and wearing colourful djellabas and veils, these women are cool, confident and confrontational. You're not looking at them; they're looking at you.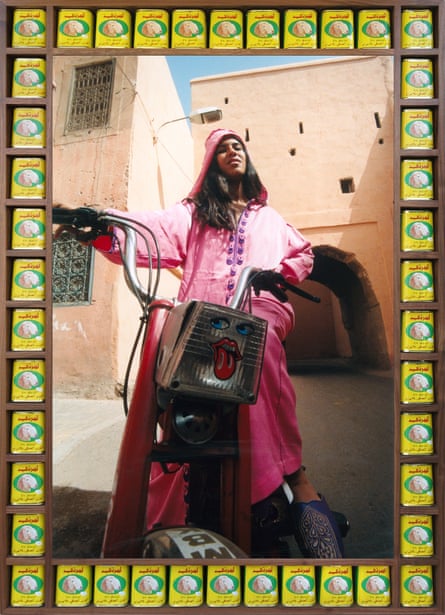 "It's the idea that, if the camera has been a tool for misrepresenting certain bodies or subjects, how can it in equal measure now become a tool for liberating those subjects?" says Bonsu.
There is little straight photojournalism in the show; with many of these photographers, the work is less about capturing an outer reality than expressing an inner one. The term "Afrofuturism" has been overused to the point of exhaustion in recent years, and it fails to describe much of what's going on here. As much as they imagine the future, many of these works incorporate the past – not just colonial legacies but the traditions they overwrote and all but erased. Modern fashions mix with tribal masks; historical images of shackled labourers are superimposed on to modern-day mining sites; African spiritualism mixes with Christianity and Islam. Past, present, future – it all becomes one. You could see it as an African state of mind.
"My reality is not the same as that which is often presented to us in western photographs," said the late Rotimi Fani-Kayode, whose sensual portraits fuse European painting conventions with Yoruba iconography, and African ceremonial garb with modern fetish gear.
"The way that I see us Africans is that we exist in so many different points," says Aïda Muluneh, one of the leading lights in African photography. "We are contemporary, we're traditional, we're unique in that way. And then we're global at the same time. There are artists that live abroad; there are artists like myself that live on the continent. But within that, you have to look at what we are trying to say."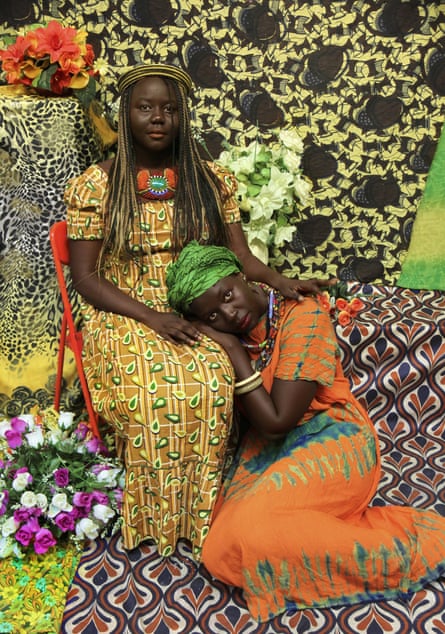 Muluneh began as a photojournalist for the Washington Post; now she constructs striking tableaux that read like dream images: semi-abstract desert landscapes, white-painted women, swathes of saturated reds, blues and yellows. "These are colours that I feel very strongly towards, almost to the level of an obsession," she says. "But they are more of a seduction; to seduce the audience into the image because there's a lot of layers inside of it."
Muluneh's work often focuses on female perspectives and identities. Her Water Life series of 2018, for example, addresses access to water, and women's work in fetching it. Each image is planned almost like a movie shoot, she explains, beginning with sketches, set building, costume design, makeup, often followed by a challenging location shoot, in this case at Ethiopia's baking hot Dallol salt flats. "My biggest concern was that my lights were going to explode or my camera was going to melt," she says. "We were out in this unforgiving sun and that desert wind, which is basically heat and fire in your face."
Muluneh grew up in Europe and north America before returning to Ethiopia in 2007. As well as her own work, she has been busy building a local photography scene there – teaching, mentoring, setting up workshops and establishing a biennial festival, Addis Foto Fest, in 2010. Four years ago she set up a companion event in Abidjan, Ivory Coast, where she now lives. These are additions to a busy network of photography festivals that has emerged in the past 15 years, including Bamako's African Photography Encounters, in Mali, and Lagos Photo, in Nigeria. These shows also introduce western photographers to Africa, just as artists such as Muluneh are exhibited globally.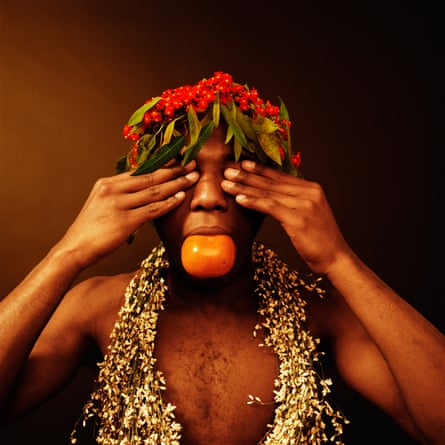 The Tate has its own colonial baggage, of course, as an institution founded on the wealth of a sugar industry that was enabled by conquest and enslavement. But the images being served up for British consumption at Tate Modern now show us Africa on its own terms. It feels like less of a "them and us" situation. Many Britons themselves have African ancestry, just as many of these photographers have British connections. Ossai now lives in Yorkshire; Khadija Saye, whose portraits emulate 19th-century techniques but incorporate traditional spiritual practices, was a British Gambian artist who died in the Grenfell tower fire; Fani-Kayode lived and worked in Britain until his death in 1989. Bonsu describes his family as Ghanaian-Welsh. Inevitably themes of modern migration emerge, as in the work of Dawit Petros, an Eritrean emigrant who now lives in Canada. In his portraits, figures stand in the landscape with long mirrors obscuring their faces – literally reflecting where they're coming from as they head somewhere new.
One of the guiding lights of the exhibition, Bonsu explains, was Cameroonian intellectual Achille Mbembe, who saw the west's "dark continent" attitudes towards Africa as a reflection of its "desperate desire to assert its difference from the rest of the world … Africa still constitutes one of the metaphors through which the west represents the origin of its own norms, develops a self-image." The colonial gaze was never really about the west's ideas of Africa, in other words; it was about the west's ideas of itself. But Mbembe's notion of "a world in common" highlights the interconnectedness of the modern world, and the possibility of "thinking the world from Africa," says Bonsu. "In doing so, one would gain a more expanded understanding of humanity." Where the west once thought it was shaping African culture, Africa is now shaping ours.
A World in Common: Contemporary African Photography is at Tate Modern, London, from 6 July to 14 January. Until midnight 5 July, Guardian readers can buy two tickets for the price of one using the code GN23AWIC. The Guardian is a media partner for this exhibition