Kyle Waymouth, a Stratford musician and five-time Canadian step-dance champion, has been nominated for instrumental solo artist of year at the 2023 Canadian Folk Music Awards after releasing his debut album, Inchoate, last year.
Article content
Already a five-time Canadian step-dance champion, a local dance teacher and a touring musician, Stratford's Kyle Waymouth can now add Canadian Folk Music Awards nominee to his list of professional accomplishments.
Article content
Under the musical moniker Waymzy,  which also happens to be his Xbox gamer tag, Waymouth was recently nominated for best instrumental solo artist of the year after the release of his debut album, Inchoate, last summer.
"It was really exciting," Waymouth said. "I remember watching the (awards nominations) livestream. It's an open application (process). You apply for different categories you think you'd be a contender in. I remember they were going along and the album wasn't popping up,  which is fine, obviously, but then it did.
"I don't know if this is narcissistic, but it felt a little validating. I've been on a few other albums that have been nominated before, but never on something that was my own project."
Inchoate features an all-instrumental selection of eight original songs, including Carpet Filtered Coffee, Drive Test and Perth Hills, that evolved from musicals ideas, riffs and rough melodies Waymouth recorded as voice memos on his phone over the years.
Article content
While his original plan was to write, record and produce the album on his own while simultaneously learning the ins and outs of music production, Waymouth ultimately teamed with friends and Charlottetown-based musicians Jake Charron, who stepped in as producer on the album, and Donald Richard, who lent his talents in sound mixing, to help him realize his vision for Waymzy's introduction to the world as a solo artist.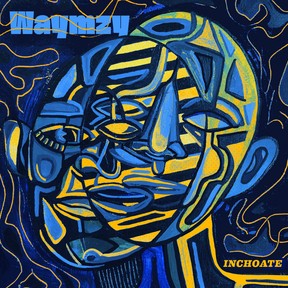 "Inchoate means something that's in its very early stages and not yet fully formed, so it ended up really being that," Waymouth said. "It feels like this is something that (I can grow from) as a person and a solo artist. It's like a jumping-off point, but I think as well it's collaborative in that I wanted to do it all on my own, but accepting the help from my friends was something that it really needed to become fully formed."
Article content
While it doesn't feature any fiddle, Waymouth said the songs on the album – primarily played on guitar and banjo – are heavily influenced by the music he grew up step dancing to.
"In Ontario, step dancing goes hand in hand with fiddle music and Quebec has a dance-and-tune tradition that doesn't have words – it's all melodies. There's a step-dancing and fiddle tradition out east, and then there's the same throughout Ireland," Waymouth said. "So all of this Irish, Scottish and English traditional folk music has a kind of fiddle-and-dance component to it. I started playing fiddle as a kid and learned all these tunes, so even though there's no fiddle present on my album here, what I'm doing with the guitar and banjo are melodies that, in my head, are sort of along the lines of dance music still."
Waymouth said he plans to fly to Vancouver to attend the Canadian Folk Music Awards ceremony and concerts on April 1 and April 2. meeting and mingling with his fellow nominees from across the country, some of whom he's performed with before, and celebrating his first awards nomination as a solo artist.
For more information on the Canadian Folk Music Awards and to see the full list of nominees, visit folkawards.ca.
Inchoate is available on all major streaming platforms, as well as through Waymouth's website at www.kylewaymouth.com.